Massage Therapy & Natural Health Care by Synergystix Partners in Health
Massage Therapy Puts You on the Path to Optimum Health
Synergystix Partners in Health provides quality massage therapy treatments catered to your unique healthcare needs in a quiet and comfortable setting. Our Registered Massage Therapists help you to reduce pain, improve mobility, and get you back to doing what you love.
Our fully equipped fitness area is designed to meet the needs of any fitness level. Whether you need to get in shape, recover from an injury, or simply rediscover your love of exercise, our Certified Fitness Trainers have a plan tailor-made for you. All levels of fitness and experience are welcome.
Life is better when you feel good!
Synergystix is proud to be the first clinic of it's kind to open in Peterborough.  We have over 25 years experience. Our priority is helping you feel better. As a result you can trust Synergystix.
With multiple therapies in one place, there's no need to waste time driving to appointments. Synergystix, you can meet all your health care needs under one roof! 
Our name is Synergystix Partners in Health and we want to partner with you on your journey to better health!
Our Patients Achieve Their Health Goals
About Synergystix

We are a professional team committed to providing an outstanding level of natural health care. We help educate people and promote a healthy lifestyle within our clinic and our community.
Massage Therapy & Fitness Training can help you feel better!
Our Services
Massage Therapy – Studies show that it's an great method for reducing stress, pain and muscle tension (details below)
Fitness Training – Fitness is a vital part of total healthcare. Our Certified Personal Trainers design a program tailored to your needs. Therefore you achieve your fitness goals with one-on-one training sessions in our fully equipped gym.
Acupuncture – Traditional Chinese Medicine (TCM) is an elegant and complete holistic medical system. Acupuncture treats the underlying cause of disease. As a result you have reduced symptoms and improved quality of life.
Reiki – Reiki is an energy based healing system that works with the natural universal life force energy. Reiki assists the body's natural ability to heal itself. It is spiritual in nature but has no dogma or creed.
MASSAGE THERAPY IN PETERBOROUGH
Synergystix helps people just like you make self-care a priority. With regular Massage Therapy you can live life with fewer aches & pains. Massage is a great way to take control of your health, so you feel better. It's relaxing and healing at the same time. It only takes an hour to find out if it's right for you. We were the first clinic for massage in Peterborough and we're still the best.
Get a soothing treatment and begin your journey today
We'll customize your plan to complement the way you live. You can choose your session length and any other treatments to fit your needs. Let our therapists show you how much they can help you. We also have a full range of alternative treatments.
Relaxation isn't the only benefit when you take control of your health. Massage helps with many common medical problems.
WHAT IS MASSAGE THERAPY?
Massage is the movement of your body's soft tissues to improve how you feel. 
Therapists manipulate your muscles, connective tissues, and joints to cause a healing response. This helps to increase mobility, reduce pain, improve circulation and lymph node drainage. A sense of deep relaxation is often part of a good massage.
Relaxing music and soft lighting are used to enhance the experience. Your therapist may apply a heating pad or cold pack and may use lotion for some treatments.
Massage doesn't just cause a muscle reaction, it also affects: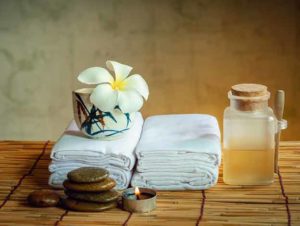 Nerves
Blood vessels
Digestive system
Other major organs of the body
WHAT ARE THE BENEFITS OF MASSAGE THERAPY?
Aids in local circulation issues such as swelling and skin health

Aids in lymphatic movement

Reduces stress and anxiety

Reduces spasm and modulate pain

Stimulates the nervous tissue
Often part of a complete health plan, massage helps many conditions.
Low-back pain

Reduce muscle tension to prevent injuries

Healing from sprains & fractures. Helps repetitive stress injuries like tendinitis.

Maintain range of motion and confidence needed for an active lifestyle

Promote healing from injuries like car accidents or sports injuries

Know your body so you're aware of how to move without injury

Relieve recurring headaches

Alleviate digestive disorders

Improve athletic performance
---
TYPES OF MASSAGE THERAPY
Trigger Point Therapy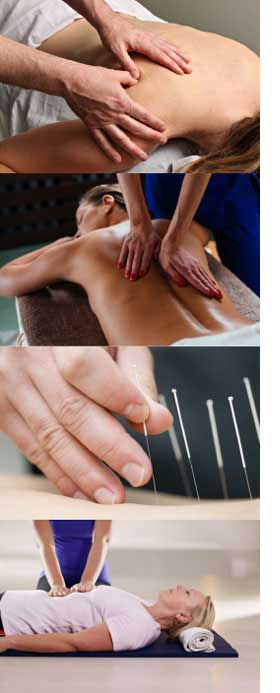 Reduces pain by removing trigger points. These can cause pain locally or elsewhere in the body. Good for headaches, general body pain, and post-injury recovery.
Swedish and Relaxation Massage
Soothes mind and body with gentle to moderately intense techniques. Good for stress and anxiety-related tension. A great way to unwind after a long week.
Myofascial Release
Fascia is a sheet of connective tissue beneath the skin. It attaches and separates muscles and organs.
Gentle, sustained pressure, applied without lotion. Releases fascia and loosens adhesions. This type of treatment is good for posture issues and general body pain.
Manual Lymphatic Drainage (MLD)
MLD consists of gentle and precise strokes stimulate the lymphatic system to:
Remove swelling

Reduce inflammation

Increase relaxation

Help with Lymphedema when combined with compression bandaging.

Improve sleep and injury recovery 
Pregnancy Massage
When you're pregnant, your body is changing. Pregnancy focused massage can relieve the discomfort that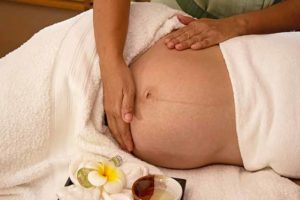 comes with that. This includes low back pain, sciatica, and overall soreness. We use special pillows to ensure your comfort.
Deep Tissue Massage
Releases tension in muscles using vigorous techniques. Good for seasoned clients and those who know they prefer deeper pressure. This promotes fast improvement following injury.
Reduces scar tissue, rebuilds flexibility and range of motion in muscles and joints.
WHAT ARE THE RISKS OF MASSAGE?
Most people can benefit from Massage Therapy. It may not be right if you have any of these conditions:
Ask your doctor if massage is right for you. Be extra careful if:
You're pregnant

Have cancer

Have any pain that you haven't seen your doctor for
Be sure to disclose all health issues to your therapist and doctor. You may feel a bit sore for a day or two after some types of massage. Tell your therapist if you're not comfortable. If you experience pain, tell your therapist to modify or stop treatment.
OUR EXPERTS
All our Massage Therapists are registered with the College of Massage Therapists of Ontario (CMTO). Registered Massage Therapists (RMT's) complete a multi-year college level program. The CMTO governs all RMTs in Ontario.  You're always in good hands.
Our RMTs can treat people who have a wide range of medical conditions. Book an appointment to find out how we can help you.
YOUR VISIT
There's paperwork to fill out on your first visit, so please come 10 minutes early. Your health info is strictly confidential.
With your therapist, you'll develop a treatment plan that meets your goals. You can consult with other healthcare practitioners at Synergistix, such as a fitness counselor, if this would help in your treatment. While you're on the table, you're covered by linens and a blanket. You have the option to remain fully clothed during the treatment if you prefer. Therapists will obtain your consent to work on various parts of your body. They'll monitor your level of comfort during treatment.
If you experience pain, tell your therapist to modify or stop treatment.
Our goal is to provide therapy to meet your needs and lifestyle. Therapy that works!
FREQUENTLY ASKED QUESTIONS
Can I have a massage if I'm in pain?
If you are coming for massage due to injury or pain, your therapist will perform an assessment to ensure that it is safe for you to receive massage. In many cases, massage can reduce inflammation, relieve pain, and promote healing.
Be sure to let your therapist know how you're feeling both before and during your treatment. If needed, we can also provide referrals to other health care professionals.
Is Massage Painful?
The pressure applied can vary anywhere from extremely gentle to quite intense. Some clients find intense pressure helpful in releasing tension, while others prefer gentle, soothing techniques. How much pressure a client wants can also vary from day to day, depending on his or her stress level and other factors.
Your therapist will check in with you to ensure you are comfortable with the pressure used. Clients are also encouraged to let the therapist know anytime they would prefer more or less pressure
Can I keep my clothes on?
Yes. Many techniques can be performed over clothing, and all clients are covered by a linen and blanket while on the table. If you do choose to undress, only the area being worked on will be undraped. Your privacy and comfort will always be respected.
THE TAKEAWAY
Therapeutic Massage can provide relief for many medical conditions.
Synergystix is Peterborough's longest established Massage clinic. We're focused on healing you.
Get the best massage in Peterborough. Book an appointment at Synergystix and start feeling better today!
Synergystix Partners in Health
The Best Massage Therapy in Peterborough
---
Frequently Asked Questions About Massage Therapy
Are there special COVID-19 procedures?
Yes, we have made many changes for COVID-19. Click here for special procedures
First treatment? With so many choices, how do I choose?
Your therapist will recommend a treatment plan based on your goals and preferences. Please come 10 minutes early for your first visit so you have time to fill out your health information. If you have extended health insurance, bring your policy information.
Can I use my Extended Health Benefits? Do you offer Direct Billing?
Yes! Most Extended Health Benefit plans offer coverage for our services. We offer Direct Billing for major Insurance companies. Click here for a list of insurers.
What payment options do you have?
We accept Interac, Visa, MasterCard and Cash.
Is Synergystix accessible? – I use a wheelchair or walker.
There's a wheelchair accessible ramp and accessible door located on the west side of the building. Once through, there is a small step at the inner door. Our washrooms are not wheelchair accessible, but can accessed with a walker or other mobility aid.
Two treatment rooms are large enough to accommodate mobility aids including wheelchairs and walkers. Please let our Front Desk know about any accessibility needs when booking.
Hours of Operation
| | |
| --- | --- |
| Monday | 9AM-7PM |
| Tuesday | 9AM-7PM |
| Wednesday | 9AM-7PM |
| Thursday | 9AM-7PM |
| Friday | 9AM-7PM |
| Saturday | 10AM-4PM |
| Sunday | Closed |
Our clinic is committed to providing accessible and equitable service to each and every one of our diverse and valued clients.
Open regular business hours, extended evening hours and on Saturdays.
Synergystix Partners in Health
308 Charlotte St., Peterborough ON, K9J 2V7
Tel. 705-742-8244